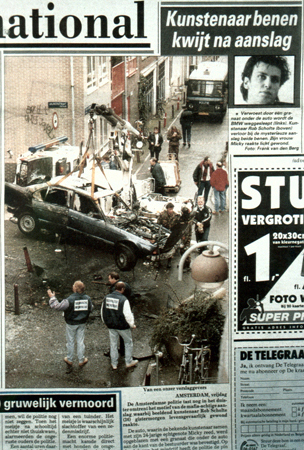 Rob Scholte's BMW 325i - De Telegraaph newspaper.
November 1994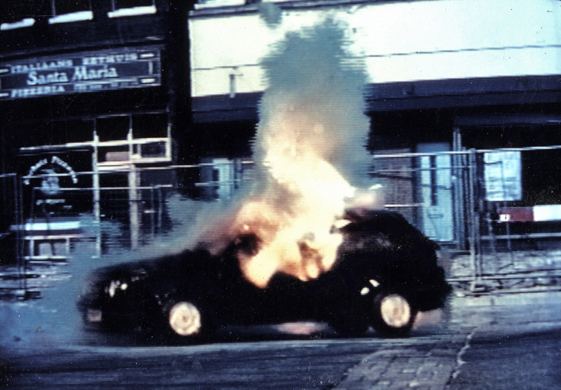 Golf Gti test. Peter Vlaminkstraat, Amsterdam. 1994

An early version of this work involved exploding a Golf Gti on an
Amsterdam street. This scenario seemed unlikely, so the location and
car were both changed. The City of London Version of BMW 325i was
first exhibited in the Open Ateliers of the Rijsakademie in Amsterdam
in early December 1994 and while the exhibition was being installed,
the Dutch artist Rob Scholte was blown out of his BMW on an
Amsterdam street. Scholte lost his legs in the explosion, which at the
time was thought to be a case of mistaken identity, related to a court case involving drugs. In spite of the odd coincidence, the work was exhibited as originally planned.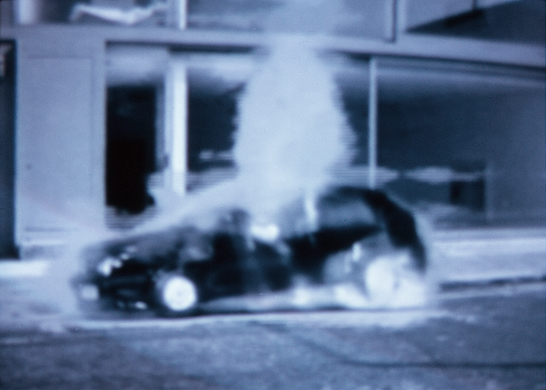 Golf Gti - 1994.

The backdrop to Golf Gti was the Lisson Gallery in London. This time the work was conceived as an act of virtual terrorism. The idea was to take a car from a particular street and film a similar car exploding in a studio and afterwards superimpose it back onto the street in question. During a meeting with a curator at the Lisson gallery about his work, Dower handed a copy of the tape over. The video sat on a shelf and it is not known if it was ever viewed by anyone.