SEANDOWER.COM
Sean Dower: Artworks and information
---


Both sides of the story
(1-3) 1993
click images to enlarge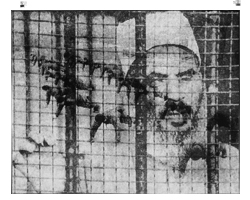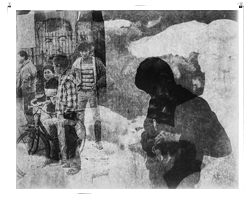 Hand printed photographs on resin coated paper. 1993 - 140 x 110 cm

Newspapers are usually edited to avoid unwanted or insensitive clashes between stories and images on the same page, however clashes between images on opposite sides of the same page are rarely considered. The artist noticed whilst reading newspapers in bright sunlight that overlapping images were often accidently juxtaposed in contrasting or meaningful ways. The newspaper cuttings were placed directly in a lithographic enlarger and projected onto photo paper. A series of seven 16x16cm direct photograms were also made at acual size.


Using images from newspapers directly as negatives, both sides of the page combine to form a single image:
(1) a group of soldiers training in a caged compound superimposed with the image of a Mullah in a taqiyah (cap);
(2) a group of Palestinian children superimposed on decomissioned sculptures of Stalin;
(3) an image of pistol toting, burkha wearing women superimposed within a compound of pigs.