SEANDOWER.COM
Sean Dower: Artworks and information
---
Salvation -

1996
click images to enlarge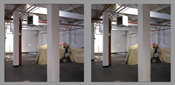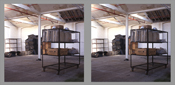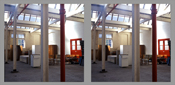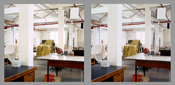 Salvation #1-4, 1996. In pairs, each image 46 x 40 cm

The Salvation series of photographs were taken at a Salvation Army furniture repair workshop in Bermondsey, London.

At first glance, the two images in each work look identical, but are infact taken from slightly different angles (corresponding to the left and right eye's view). The photos (printed from 6x6 transparencies) exist as pairs and are framed identically.
The site, which also housed homeless men has since been demolished.
Framed work (click to enlarge)


For an overview of works in sterescopic 3D please see: Selected stereo (3D) projects